As soon as the cattle come into the young cattle shed, it is good to shave them. 
Compared to outside, the climate in the young cattle shed is different. In late autumn and winter it is often very humid. Due to this high humidity in combination with foggy and windless weather, the air in the young cattle shed is often less fresh. This makes the animals much more susceptible to respiratory infections.
In adult cattle, IBR (Infectious Bovine Rhinotracheitis), can break out on positive farms. 
BRD (Bovine Respiratory Disease), in combination with Mannheimia bacteria can break out in  younger animals.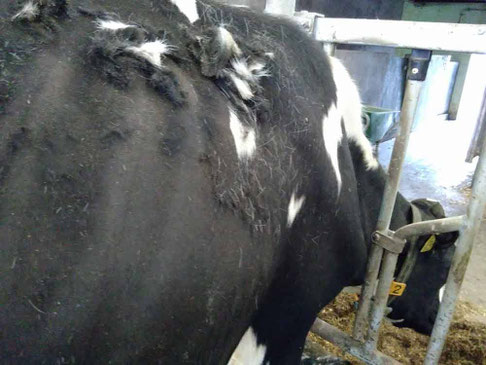 Unshaven animals often get too hot in the young cattle shed. Young stock, heifers and calves have a long and very dense winter coat. They don't need that coat in the young cattle shed. The winter coat makes them sweat very quickly.
This sweating results in faster breathing and damage to the mucous membranes in the respiratory tract.
Also pay attention to the control of internal and external parasites.
This can be done after shaving in the young cattle shed and if necessary, by using "pour on" products.
Always consult your vet in advance about the necessity and the application of the correct agent in the correct dosage.
---