As soon as summer gives way to autumn, many farmers are happy that the high temperatures (and the associated heat stress problems) are over for the animals.
The effect of heat stress, and whether this problem on the farm is under control, can be clearly seen in the newborn calves. The effects of heat stress on dry cows can still be observed up to 7 weeks after such a warm period.
The growth of the unborn calf is greatest during the last 6 weeks of pregnancy. A cow that suffers from heat stress during this period (or prior to this), consumes less feed.
This is not beneficial to the normal development and health of the calf. Depending on the degree of heat stress in the dry cow, the calf's birth weight will often be lower. Such calves can be clearly slower and less vital. Extra attention to calf health and colostrum intake are therefore necessary here.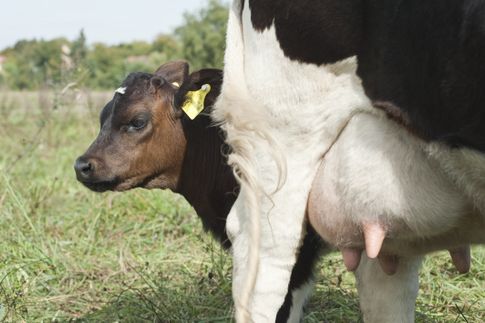 COLOSTRUM
Good quality colostrum in the right amount is the basis for a good start.
To measure is to know, especially after a warm summer period.
Therefore, test your colostrum for quality. When in doubt, use good colostrum that you have frozen as a backup supply.
As far as I am concerned, a calf may drink 4 to 4.5 liters of good quality colostrum immediately after birth.
Body temperature, vitality, digestion, antibodies: these (and much more) are positively influenced by the intake of the right amount and good quality colostrum.
My maxim:
"No colostrum produces a limp calf that becomes hypothermic.
As a result, such a calf does not drink.
It ends up in a negative spiral with death as a result ".
Weak calves have an extra need for heat, selenium, iron, vitamin B12 and vitamin E.
Feel free to give calves from "heat stress cows" structurally 1/3 more milk than the standard.
This way they can compensate for the growth delay that has occurred.
More milk also shows better growth in "normal" calves. It always pays for itself!
Youth growth is the strongest, take maximum advantage of it. Growth slows with age.
Growth retardation occurs in the initial period, calves never catch up again.
No matter how well you feed later!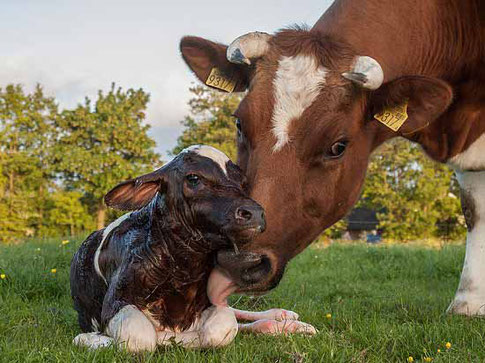 It is best to avoid all these problems.
Therefore, act immediately. Pay attention to dry and transition cows. Be extra alert to these cows and their calves.
---