THE USE OF STRAW AND / OR COW GRIDS
A ground cover with sufficient dry straw of good quality has a double function.
At animal level, it not only contributes to a comfortable temperature, it also lowers the infection pressure there.
The more often and more good straw is used, the lower the infection pressure and the higher the animal's perceived temperature.
For calves that cannot sufficiently compensate for temperature fluctuations themselves (and are therefore sensitive to temperature fluctuations and moisture), housing on a suitable straw bed is a great advantage.
How long a (partial) straw housing is desirable, of course, strongly depends on the weather.
Research has shown that the lower limit is approximately 6 months. The weather is therefore often seasonal.
A good interim solution (as a transition period and preparation for the slatted floor) is a combination of straw part and grid part.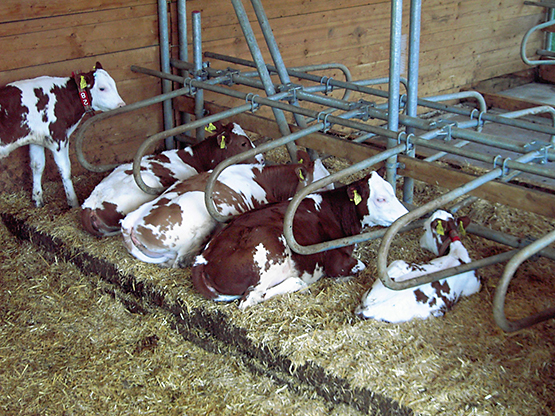 MECHANICAL OR NATURAL VENTILATION
From several perspectives, (including air flow in relation to barn climate and air quality), natural ventilation is preferable.
The disadvantage of natural ventilation is that it is difficult to control. (temperature and low humidity in a draft-free environment).
The wind direction, (and the location of the cowshed in relation to the predominant wind direction), play a very important role in this.
Mechanical ventilation seems like an easy alternative, but do not underestimate this.
"Just close a part of the barn and hang a large fan in it" will often not contribute to the desired barn climate.
Especially the high humidity in cold periods, and in periods when the nights are still cold and the days pleasantly warm, (such as spring / summer and autumn / winter transitions), often cause a poor barn climate.
Creating suitable housing for young stock in all situations is more than just a "piece of barn space".
A good start is of great importance, especially in the rearing of the future generation.
In my opinion, once the youth growth has fallen behind, it will never be compensated.
---