Outside the cowshed, the first flies appear early in the spring, mainly after the first warm days.
We distinguish between biting flies (these suck blood) and head flies (these feast on dung, carrion, animal secretion, etc.).
Some fly species lay their eggs on the ground or in fresh manure, others prefer to lay their eggs in the fur of the cattle.
Below the most important fly species that occur on (pasture) livestock.
STABLE FLY AND SMALL STITCH FLIES:
These flies sometimes occur en masse on livestock.
More than 50 stable flies or 200 small biting flies on one cow can be the cause of a stunted meat or milk production!
Some small biting flies are continuously on one animal and follow it like a cloud of flies. Others leave their hosts at night.
CULICOIDS FLIES:
These flies mainly cause "summer eczema" in horses at the level of the mane and tail.
LUCILIA SERICATA, "THE GREEN MEAT FLY":
This fly causes "Myiasis" in sheep but I have also found them on calves, rabbits, cats and dogs.
The fly deposits its eggs in a wound or in the soiled (damp) fur of the animal. Once the larvae have hatched (within hours to days depending on the ambient temperature), they undermine their victim's skin. Large foul-smelling wounds develop, often resulting in the death of the host.
SHEEP AID FLY (MELOPHAGUS OVINUS):
This is a wingless but bloodsucking fly. As the name suggests, it often occurs on sheep. Sheep can be very weakened when they are parasitized by this fly.
                                PLACES WHERE FLIES OCCUR ON CATTLE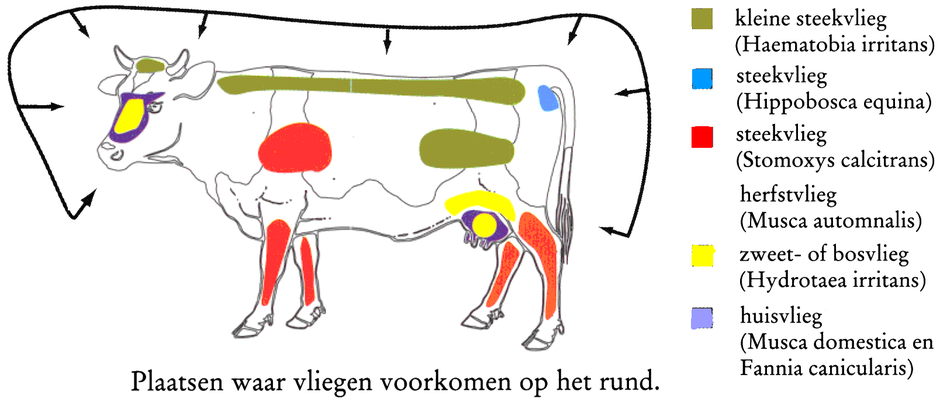 SUMMER MASTITIS FLY (HYDROTAEA IRRITANS), AND THE AUTUMN FLY (MUSCA AUTUMNALIS):
The summer mastitis fly is the carrier of the pathogen Actinomyces pyogenes, which causes a contagious form of udder inflammation in cows.
In the summer on the pasture we see these flies around the udder and teats where they feed on milk residues.
The autumn fly is the carrier of the pathogen Moraxella bovis, the cause of "Pinkeye". It is a contagious form of eye inflammation in cows. Especially in autumn we see these flies around the head and around the eyes, where they feed on mucus and tear fluid.
Fighting these flies is often difficult and not 100% effective because the flies "travel" from one cow to another, and from pasture to pasture.
Especially when using Pour-on products against summer mastitis, the concentration of the insecticide around the udder is often too low.
The insecticide applied against "Pinkeye" around the eyes is often washed away by tears from the animal to be treated.
WHAT TO USE?
Which agent works best depends on the environmental factors and the flies to be controlled.
Therefore, always consult your veterinarian in advance about the agent to be chosen and the frequency of application. 
---