A timely and targeted approach to fly control not only results in calm animals, it also contributes to the prevention of animal diseases that are transmitted by flying insects.
The Netherlands had a first case of Bluetongue in 2006. The virus is transmitted by a vector, called "knut". (A vector in this case is an invertebrate organism that can transfer pathogens and / or parasites from one host to another. The vector itself is not the causative agent of the diseases).
BESNOITIOSIS IN 2019: IT IS A "NEWCOMER" IN WESTERN EUROPE
A "newcomer" in the line of vector-borne bovine diseases in Western Europe is Besnoitiosis.
This disease is mainly transmitted by biting flies and mosquitoes.
The result is a strong emaciation of the affected animals, reduced fertility to sterility in bulls, and in the slaughterhouse we see an increase in rejections at the slaughter line.
The causative agent of Besnoitiosis is the parasite Besnoitia besnoiti. A single-celled organism that, in addition to biting flies and mosquitoes, is also transmitted through the (re) use of hypodermic needles.
An additional problem is that the clinical symptoms are not always visible in seropositive cattle.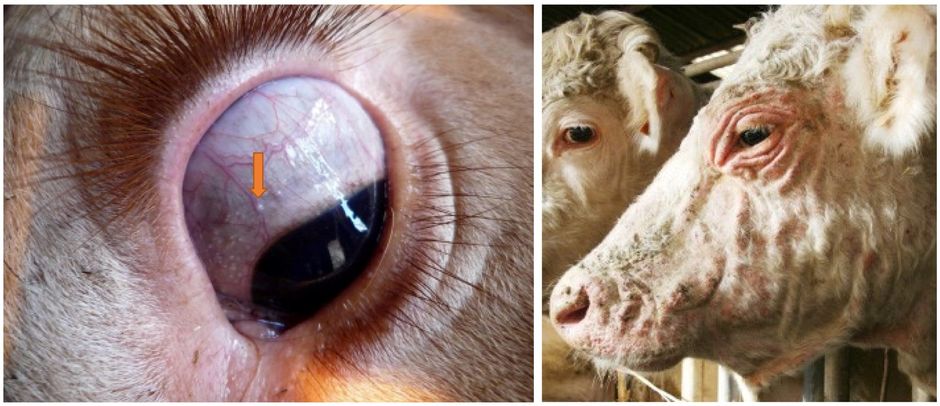 The disease is currently NOT treatable.
Seropositive cattle remain carriers for life. Identifying infected animals as soon as possible and removing them from the farm is unfortunately the only effective remedy.
WHAT ARE THE CLINICAL SYMPTOMS
If symptoms are present, we see a swelling of the head that will spread over the body and we see bruises on the udder.
The cow also has a fever.
"ELEPHANT SKIN"
For me, the "elephant skin" is a typical phenomenon in the chronic phase.
This hard and often wrinkled skin peels off in places.
At the level of the eyeball and the nasal mucous membranes we sometimes see small cysts.
---