Hygiene makes an important contribution to good udder health and is not limited to the cubicles in the cowshed.
Hygiene around the milking robot also deserves constant attention.
During my farm visits I see big differences between the various farms.
Therefore some useful tips about udder and hygiene.
* The control room on farms that work with milking robots is located on the side of the robot arm.
   In addition to the controls, this room also contains various parts to be cleaned, including a tube filter.
   These parts must be cleaned regularly as specified by the manufacturer.
* Cows with dirty udders are more likely to be contaminated with bacteria (especially Klebsiella).
   That is why the cubicles must be clean and dry!
TRANSFER OF BACTERIA, WHAT ARE THE ROUTES?
* During milking, (especially in malfunctioning self-cleaning installations), the teat cup, brushes and all other parts in contact with the udder       pose a potential risk of cross-contamination.
* Damp and dirty slats, litter contaminated with manure, but also contaminated (drinking) water form a potential source of bacterial                       transmission between two milking sessions.
* Healthy cows with a damaged "quarter" or damaged teats are a contamination route for bacterial transmission.
* A higher hygiene score significantly reduces the risk of bacterial infections.
   This does not only apply to robotic milking!
* Farms with a lower hygiene score often have a higher (tank) cell count.
* Farms that are alert to hygiene therefore regularly check the (brush) settings and the operation and implementation of the disinfection
   methods.
SOME TIPS TO KEEP UDDERS CLEAN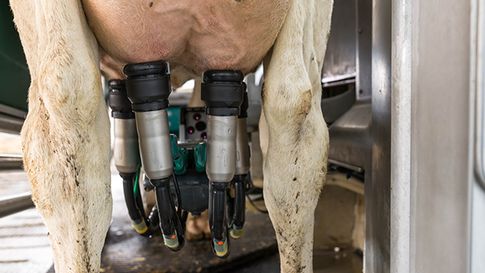 REDUCE EXCESSIVE HAIR GROWTH ON THE UDDER AND TAIL:
Reducing hairs on the udder and tail every three months in the spring / summer and every two months in the autumn / winter reduces dirtiness at animal level.
But it has another big advantage:
It also prevents dirt on the laser, especially when determining the teat location!
* Is your milking robot capacity less than expected,
* is the number of unsuccessful milkings higher than expected?
One of the possible causes could be excessive hair growth at the udder level!
I aim for less than 5% dirty udders in a herd of cows.
GROUND COVER IN THE CUBICLES:
Use the most suitable ground cover for your circumstances. For some this is litter, for others it is sand.
Many farmers are unaware that clean sand is naturally sterile, a good starting point for udder hygiene.
In addition, cows love to lie in the sand!
THE CUBICLE THAT FITS YOUR COWS:
Too often I see cubicles that are too small. In addition to animal welfare, animal health and longevity, a cubicle tailored to the cow also prevents contamination. The cows lie down longer, more comfortably and ruminate significantly more. The milk is made while lying down!
If possible, clean the cubicles at least twice a day. Remove wet spots and spots with manure, urine and milk residue.
CLEAN AND DRY GRIDS / FLOORS:
Unfortunately, things often go wrong here. Slippery and wet floors, extra claw problems and extra stress for the cows.
Keep the floor as clean and dry as possible. Therefore, regularly remove manure and ensure good ventilation.
THE CLEANING CYCLE OF THE MILKING ROBOT:
The setting and execution can differ per brand and type.
In general terms, cleaning consists of three process steps:
* Pre-rinse,
* main cleaning,
* post-rinse.
The pre-rinse:
Maximum water temperature 40 ° C!
Its purpose is to remove milk and dirt residues from the system. This is done by a so-called displacement flush and is necessary to prevent proteins from precipitating during the main flush. This precipitation has a negative effect on the effect of the added cleaning agent.
The main cleaning:
Cleans and disinfects the milking robot and the pipes.
Usually a heat cleaning in combination with a cleaning agent.
Water at 98 ° C is sucked through the installation and discharged immediately.
Creating a temperature of > 77 ° C for at least 2 minutes kills bacteria.
The final rinse after the main cleaning:
This prevents residues of detergent from remaining and it prevents damage to metal surfaces by oxygen and water (corrosion).
It is desirable that the system be cooled quickly. Therefore always perform the final rinse immediately with cold tap water.
---