Most livestock farmers know from experience what to do at high temperatures in and around the cowshed. There is also a lot in the media about heat stress and cattle.
For this reason, I will limit myself here to a brief explanation and some practical tips.
Cattle can tolerate the cold well, but the heat badly.
Heat stress occurs when an animal is no longer able to regulate its body temperature due to high temperatures and humidity.
Cattle like temperatures between -10 ° C and + 18 ° C. Higher than + 18 ° C is too warm.
In addition to temperature, humidity plays a very important role.
The relationship between temperature and humidity is expressed in THI (Temperature Humidity Index). This THI must remain for cows under 72. (For example, dry air with 20% relative humidity and a temperature of 28 ° C).
In addition to loss of production, reduced appetite and reduced fertility, heat stress also results in reduced claw health and less resistance. These side effects can last for weeks to months.
RECOGNIZE HEAT STRESS IN TIME:
Cows with heat stress graze too little, drink a lot and rest significantly more. Due to the low grass and roughage intake, they immediately give less milk. Often they still have an appetite for concentrates.
Be careful with that, a disturbed balance between roughage and concentrates (resulting in rumen acidosis) is then obvious.
This creates even less appetite, which puts the animal in a downward spiral.
Heat stress also results in a reduced condition and a reduced resistance of the animal.
Therefore, keep your cows eating at high temperatures!
FIRST SIGNS OF HEAT STRESS (THERMAL DISCOMFORT):
Indications of thermal discomfort in cattle that graze outside (or that have no / insufficient shade), are to adjust their body orientation towards the sun so that a smaller surface area of the body receives solar radiation, stand more upright, lie less, gather around waterholes and try to get themselves wet. Decreasing feed intake, and therefore a decrease in rumination activity. The animals try to get rid of excess heat by panting.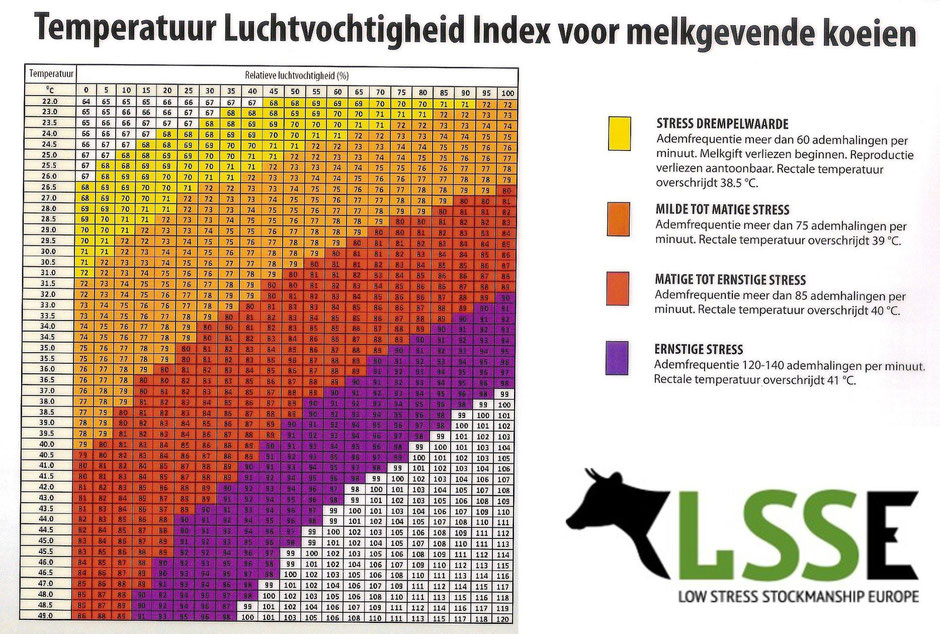 ADDITIONAL MEASURES TO PREVENT HEAT STRESS IN CATTLE
In addition to the (structural) provision of shade spots in the meadow, other measures can be taken to limit the negative effects of heat stress.
• Always provide plenty of clean and fresh drinking water (preferably in the shade),
• make sure that at least 10% of the animals on the pasture can drink at the same time!
• especially in lactating dairy cows, the water intake can increase strongly during heat stress, check non-self-topping systems regularly,
• adjust the grazing schedule if necessary;
In very warm conditions, only leave the animals on the pasture in the evening, at night and early in the morning.
• If necessary, adjust feeding schedules and feed composition in warm conditions. For example, more frequent feeding at the cooler times of the day, an easily digestible ration with a high energy value (and with sufficient roughage in the ration). Provide extra minerals and salts to make up for losses from drooling, sweating and urination.
COOLING WITH ADDITIONAL FANS
Personally, I am in favor of starting with extra air displacement on time, without creating a draft. Fans of sufficient capacity and with an intermediate distance of +/- 15 meters, directed in series and diagonally downwards on the cubicles, provide the necessary cooling at animal level. The cows like to lie there, relieve the claws and will continue to ruminate.
All ingredients for producing milk. (after all, the milk is made while lying down!).
Always observe the air displacement and temperature development over the entire cow shed area. Do not forget the calving shed, the waiting area, the milking parlor and the milking robot. Also pay extra attention to the calves in the calf hutches and calf shelters.
COOLING WITH WATER SPRAYERS OR MISTRATORS
If you are working with a system that sprays coarse droplets, point the nozzle from the feed barrier towards the grids. This prevents the feed from getting wet and scalding.
A correctly functioning installation prevents over-wet cows, limits water consumption and keeps the cows' udder dry.
WHAT ABOUT AN OVERHEATED COW?
With an overheated cow, most of you will intensively cool the animal with cold water.
However, this has the opposite effect in cows.
Due to the cold water on the skin, the many capillaries in and under the skin contract spasmodically. The result is that the internal heat can no longer escape through the skin! Extra shade, extra ventilation by a fan for the animal, and the cow drenches give a much better result.
In such a situation, always consult your vet in time.
---