Spraying cows with water to prevent (or limit) heat stress works fine.
During farm visits, I notice the wide spread in water consumption per farm.
THE AMOUNT OF WATER FOR COOLING IS LESS IMPORTANT THAN YOU THINK
Regardless of the amount of water used, cows that are watered behave differently from their "non-cooled" counterparts.
If the sprinklers are installed and used correctly, the visit to the feed barrier will be 25% higher on average. This has a positive effect on feed intake.
At the same time, the visit frequency to the feed barrier decreases by 15% per animal. This is due to a longer stay at the feed barrier, but also because cows do not like to walk proactively from a dry place through a "water curtain".
You can see this clearly in the animal behavior.
As soon as they have to walk through this water curtain, they walk with their heads down. By nature, a cow that walks quietly does this anyway (she wants to be able to see where she places her front legs), but when walking through the water curtain this "walking with its head down" becomes more extreme. However, the cooling effect of the water curtain is hardly an obstacle for cows NOT to walk to the feed barrier.
1.4 liters of water per minute (effective on the cow), gives the best cooling result in relation to the environment and water consumption.
Larger amounts of water has NO added value with regard to cooling.
A higher flow velocity at animal level has a clearly greater cooling effect than the atomization system.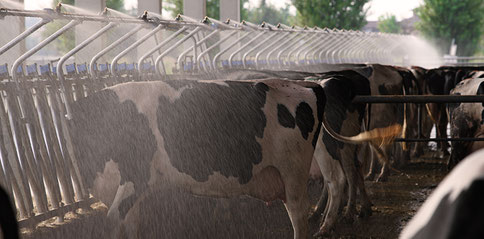 THE BODY TEMPERATURE OF COWS DROPS WHEN COOLING WITH WATER
A control group of cows (which were not sprayed with water) was compared with a few groups of cows that were sprayed with water at the feed barrier.
Various nozzles with different flow rates were tested, whereby the nozzles were always on for 3 minutes and then off for 9 minutes.
This with a 24 hour cycle.
The cows that were sprayed with water had an average lower body temperature of 0.3 to 0.7 degrees Celsius in the measurement periods between 1:00 PM and 3:00 PM and between 5:00 PM and 8:00 PM.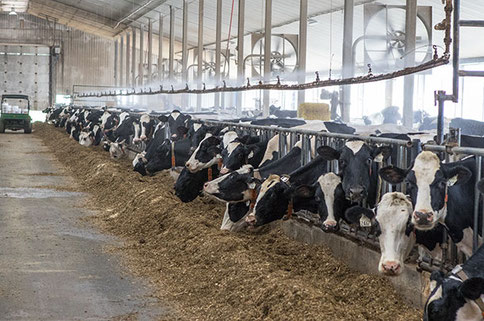 EFFICIENT USE OF WATER
The average milk production was 3.3 to 3.7 kilos per day higher in these cows compared to their peers who were exposed to heat stress.
The amount of water used per unit of time does NOT influence this difference. The differences in temperature and production values found mainly arise from whether or not the cows were watered.
The difference in flow rate (water consumption per type of nozzle per unit of time) is not seen in the results found with regard to temperature reduction and production increase.
Between farms that cool with water, I see up to 75% difference in spray water consumption per time unit.
And this while the cooling effect at animal level remains virtually the same.
---