The (milk) result of a dairy cow does not only consist of breeding (genetic predisposition). It also consists of the art and knowledge to make the most of this genetic predisposition.
The foundation is not only laid during pregnancy, but also during rearing.
For me, maximum realization of youth growth in the calf is an absolute condition and the basis for a successful dairy cow.
The first days of the calf's life are already decisive!
Did you know that during the first 40 days of the calf's life, growth (and weight gain) consists mainly of cell multiplication through cell division?
After this period, the mass of all organs in the calf increases mainly due to a larger size of the body cells that are already available.
The foundation for a successful udder is also laid in the first 40 days after the birth of the calf.
In my opinion, it is the persistent prejudices and myths surrounding the maximum daily amounts of (artificial) milk to be supplied to calves, that block the optimal development of future dairy cows.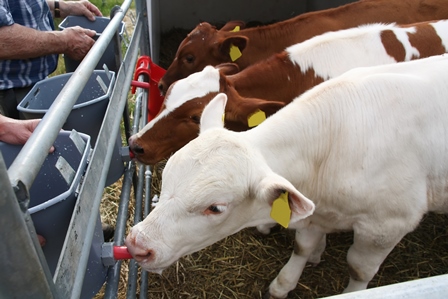 Calves that would "drink to death" and calves that would get diarrhea from too much milk, these are just two prejudices from a long list ...
---