Calves are the future of every cattle farmer, but they are also the most vulnerable group.  Good health and good growth in the first months of life are crucial for a calf to develop into a high-performing (dairy)cow.
In order to achieve this goal, the aim is often a rapid development of the rumen. This is done by quickly limiting the calf's daily amount of milk and replacing it with roughage, "calf muesli" and so on.
Unfortunately, the growth potential of calves is then not optimally utilized. Less youth growth means less milk potential!
Cows that achieved a daily growth rate of less than 600 grams as a calf, produced 460 kg less milk in the first lactation compared to calves with 1 kg growth rate per day.
WHAT IS THE DAILY NEED FOR MILK? 
To keep the necessary bodily processes going, a calf needs 4 liters of milk per day.
For 1000 grams of growth, a calf needs 5 liters of milk per day on top.
For heat production (at an ambient temperature above 0 degrees Celsius), a calf needs an additional 1 liter of milk per day.
For the maintenance and further development of the immune system, the calf needs another 2 liters of milk per day.
The total daily amount of milk is then already 12 liters.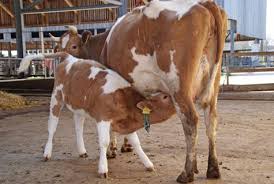 CAN CALVES DRINK THIS DAILY AMOUNT OF MILK?
Can calves drink this daily amount, especially in the first 2 weeks? 
Don't they get nutritional diarrhea?
You can rest assured, they will drink it and therefore do NOT get nutritional diarrhea.
There are some (logical) rules:
"Let the calves drink quickly", by using teats with a large opening is asking for problems.
(You already see this with smaller amounts of milk…).
In addition, the drinking bucket, teat quality, the calf's drinking position and the housing of several calves together also have a major influence on the daily milk intake.
All adjustments that cost little or nothing extra, but are certainly worth it.
---