Heat records are broken every year.
Records that people and animals cannot always handle properly.
They can often no longer give off the heat produced, which causes the body temperature to rise.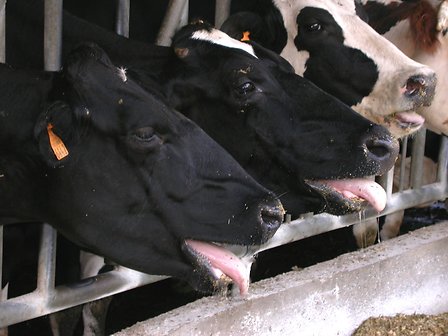 Cattle lose a lot of bicarbonate and salts through sweating, panting and drooling as a result of heat stress.
This, in combination with a higher daily water intake (180 liters and more), can lead to rumen acidification.
A lot of heat is released during the digestion of (rough) feed.
In case of heat stress, the cow will first reduce her roughage intake.
She usually still absorbs concentrate, especially if it is provided separately.
She ruminates less, which reduces saliva production.
This immediately results in a lower availability of (the buffering) bicarbonate.
The result is an environmental disturbance in the rumen, loss of levels in the milk, and loss of milk production.
We see clear differences between and within various cattle breeds (and cross-breeds) in how cows and bulls respond to heat stress.
---