THE LINK BETWEEN STRESS AND THE FUNCTION OF THE IMMUNE SYSTEM
Some examples to better understand this relationship:
Rough handling of animals. This causes fear towards humans and affects all animal species. Anxiety means stress and increases the risk of various health problems, including lameness and mastitis in dairy cows.
Many animal welfare problems, including chronic hunger (due to too little milk for the calves), premature weaning, thermal and physical disorders, are linked to a stress response.
The lying behavior is a good indicator of the welfare of cattle and dairy cows. Adequate resting behavior leads, among other things, to a reduction in lameness. Standing on a hard surface for too long, a slippery floor, uneven ground, fast and sudden movements and constantly moist claws are additional risk factors for developing lameness.
Overcrowded cow sheds, too few feeding places, too little lying space and cubicles that are not adapted to the animal, whether or not in combination with hectic handling of cattle are all causes of stress.
If you improve these conditions, you will immediately see the result!
WHAT ABOUT INFECTIOUS DISEASES?
Stress increases susceptibility to infections, especially in calves.
Too often I see calves getting too little milk or not getting the right nutrition. Whether or not in combination with a "quick teat" or milk from a bucket.
Studies show that this method causes chronic hunger in the calf. The result: (in addition to mutual sucking), a negative effect on well-being and an increased risk of respiratory diseases.
A higher daily milk yield or ad libitum milk supply not only improves growth and development, but also has a positive effect on the calf's immune system. Less stress, more growth and development, and more resistance!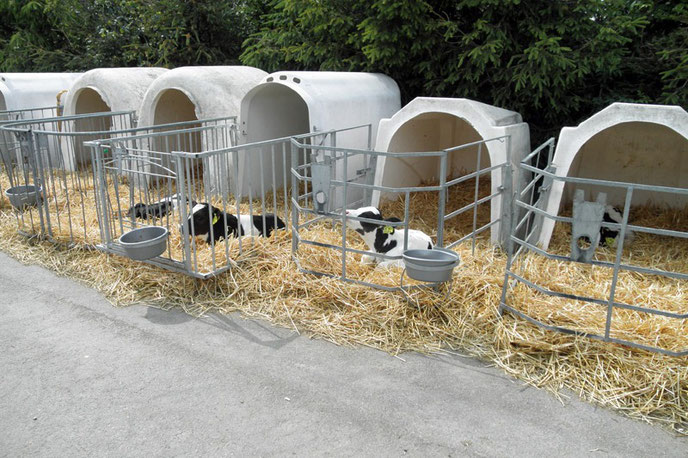 COLD STRESS IN CALVES
Calves must lie absolutely dry and draft-free.
Do the knee test yourself by sitting on the knees where the calf is lying.
WET KNEES IS WRONG!
Calves that are dry and draft-free are less prone to respiratory diseases than calves that lie on a damp and / or cold, draughty surface.
---