Fly nuisance on cattle, due to changing climate and housing conditions they occur almost all year round.
These annoying creatures not only cause discomfort and agitation for the livestock, they can also transmit diseases.
Outside the cowshed, the flies appear early in the spring, in particular after the first warm days.
We can differentiate between flies of blood sucking type and flies that are feeding on manure, carrion, animal secretions, etc.
EYE INJURY CAUSED BY IMPROPERLY PLACED ANTI-FLY EAR TAGS
The choice of fly-control products for bovines is huge. 
Varying from Pour-on products to special anti-fly ear tags.
Unfortunately, I regularly see cattle with eye injuries or eye irritations due to improperly applied anti-fly ear tags.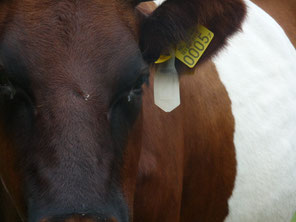 INCORRECT (INSIDE THE EAR), PLACED ANTI-FLY EAR TAG
ANTI-FLY EAR TAG CORRECTLY PLACED
The anti-fly ear tag must always be placed on the outside (back of the ear).  Not on the inside of the ear.
In this way, eye damage and eye irritation from the anti-fly ear tag is avoided and the anti-fly agent is distributed by the cow itself through neck and shoulder.
The effectiveness of the anti-fly ear tag is therefore much better.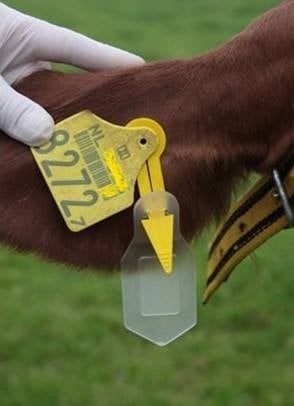 CORRECT (BEHIND THE EAR), PLACED ANTI-FLY EAR TAG 
---