---
The 2nd Tyrolean Organic Farmer Days are rounded off by specialist impulses from the four subject areas of animal husbandry, grassland, arable and vegetable growing and direct marketing. 
The lectures took place online this year as webinars. 
The organic association BIO AUSTRIA invited all interested parties, regardless of their mode of business, to take part in western Austria's largest organic event.  More info on:  https://www.bio-austria.at/event/2-tiroler-biobauerntage/
My lecture: 
"Animal Welfare - What do our cattle understand by this?"
---
On February 9th I was  guest speaker at the CRV Webinar - District 5, East Netherlands-.
My theme: "Breeding goal, and can cows cope with our behavior?"
You will see my presentation between minute / second 18:58 and 45:18.
---
On February 4th I was guest speaker at the CRV Webinar - District 6, Central Netherlands -.
My theme: "The nature of the creature".
You will see my presentation between minutes / seconds 17:34 and 46:15.
CRV commissioner Gert-Jan Verploeg shares his experience with cows entering the milking robot for the first time, at minutes / seconds 49:40.
---
How does daily handling and rearing of calves, influence later behavior of dairy cows?
This theme was central on Februari 1 and 2 2021 at Aeres Farms, part of Aeres university of applied sciences in Dronten.
Given the current regulations regarding the Coronavirus, I did the theory by means of a Webinar.
Subsequently, various groups trained with the cattle in the cow sheds of Aeres Farms under my supervision for two days.
Starting with the calves in the Iglo up to and including the dairy cows in and around the milking robot.
---
Taking into account all mandatory Corona measures, a practical seminar "Low Stress Stockmanship" took place on December 2, 2020
for dairy farmers, and on December 3, 2020 for suckler cow farmers.
The program consisted of an interactive PowerPoint presentation in the morning, followed by a practical demonstration in the afternoon on cattle farms near Rendsburg.
Some atmospheric photos to illustrate.
---

"AB Vakwerk" in Sneek (The Netherlands) has invested a lot in the working conditions of their claw carers in recent years.
Now is the time for the next step: understanding cow behavior.
If a day does not go well, one of the main causes is often stress in the cows.
"AB Vakwerk" and its employees realize that handling cows is perhaps the toughest part of the business.
For this reason, a Low Stress Stockmanship training in and around the claw treatment box took place on June 24, 2020.
At a dairy farm in Spanbroek (the Netherlands) for 30 highly experienced and motivated claw carers.
This by means of an interactive PowerPoint presentation, followed by practical training in the cowshed between and with the cows.
All claw carers received many useful tips and tricks, immediately applicable, safe and efficient.
---
These components form the basis of a unique collaboration in Germany.
A collaboration between Tierheilpraxis Manja Benedict and Low Stress Stockmanship Europe.
What started a few years ago with presentations and demonstrations of Low Stress Stockmanship in Schleswig-Holstein, has now (February 2020) grown into tailor-made business advice for cattle farmers and keepers of other herd animals.
Our practice-oriented focus is on animal-friendly handling of herd animals and the early recognition of disorders in cattle and horses.
One of our joint goals is to reduce unnecessary antibiotics in (agricultural) pets.
A topical theme (not only in Germany), which is no longer limited to organic livestock farming.
ANIMAL HEALTH AND WELL-BEING ALWAYS COMPOSED OF TWO COMPONENTS:
PHYSICAL AND MENTAL HEALTH
With this knowledge we (animal healer Manja Benedict and Cowmunicator Ronald Rongen) work on and consider both sides.
We see the cattle as a whole.
This includes species-appropriate handling and species-appropriate keeping of the animals, in which the originally natural living conditions of the animals are remembered and certain innate behavior of the animals is taken into account.
Ronald sharpens the farmers' eye for a stress-free and respectful treatment of the cattle and Manja shows the farmers how they can recognize diseases in the cattle early and treat or prevent them with alternative methods.
We also hold our seminars, workshops and advice at your location.
The alpha and omega of this is prophylaxis and animal observation.
Antibiotics are in the spotlight these days, but little is heard of the alternatives, even though they have been around for a long time.
The extensive specialist knowledge of Manja and Ronald, and the cooperation between the two companies, offer cattle farmers and hobby farmers a tried and tested tool and an alternative to reduce the consumption of medication in their livestock.
Please feel free to contact us:
Ronald Rongen, Low Stress Stockmanship Europe
Behavioral scientist, geneticist, Cowmunicator
Mobil: +31 (0)639 572 700
E-mail: info@stockmanship.eu
Manja Benedict, Tierheilpraxis Manja Benedict
Main emphasis:
Acupuncture, homeopathy, animal communication
Business advice on complementary medicine for farm animals
Ortsstrasse 75
24980 Nordhackstedt
Schleswig-Holstein (Germany)
Mobil: +49 (0)177 – 3202526
E-mail: kontakt@tierheilpraktikerin-benedict.de
---

On February 12, 2020 I was the speaker at a seminar of the "Joint cattle veterinarians Service Group West Brabant".
The event took place at "Gasterij de Afspanning" in Heerle, (The Netherlands).
The theme of the presentation was "The cow as the centerpiece" and consisted of two parts:
1. Recognize, understand and respond to bovine signals,
2. The influence of stress on the claw health of the cow
---
I was a guest in Friesland on 12 and 13 December 2019.
Four lectures and three practical demonstrations were on the program on these two days.
All at a different location, for super enthusiastic veterinarians and farmers.
My special thanks go to Iris Kolkman of "A7 Noord Vets", for the hospitable reception and the very successful organization.
---
On November 22, 2019 I gave two presentations for the CRV members from the Western Netherlands district.
Themes were:
"Is inbreeding a challenge or a threat within the current Holstein population?"
Those present were given an explanation about what inbreeding is, and how we can view inbreeding at DNA level in 2019.
After the short break, the second presentation followed with answers to the question of how we can work more animal-friendly, safer and more efficiently with cows.
After the presentations, there was plenty of room for questions and sharing experiences.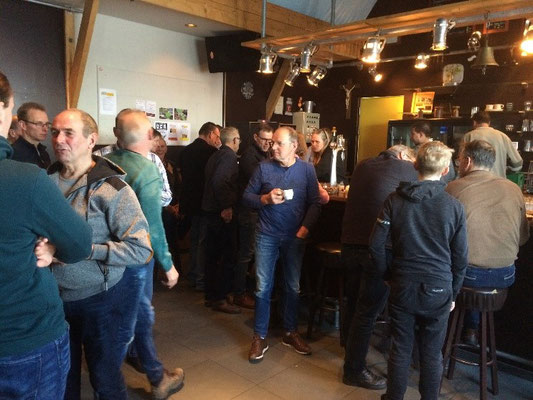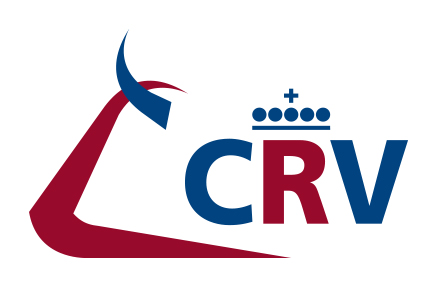 ---
Both companies jointly organized an informative farmers evening for cattle farmers and customers in Hoogeveen (The Netherlands) on  November 21, 2019.
As a guest speaker I gave the presentation "A different view on cows, how can you recognize, understand and respond to bovine signals".
All those present had an educational and enjoyable evening.
---
This year the "CRV-Boerindag 2019" took place on November 12 in Markelo, and on November 19 in Torhout.
Both events were a great success, with sold-out halls and many enthusiastic female farmers.
Just like in 2018, I was again the guest speaker for the main theme this year.
My theme for this year:
"Cows on their way to the milking parlor or milking robot, how do they experience this environment?".
In addition, various workshops also took place.
My workshop had the theme: "Calf signals from birth to weaning".
Of course there were also the cozy "CRV-Boerinmarkt" on both days.
I am proud to look back on this very successful edition of the "CRV-Boerindagen 2019".
Thanks to all, the CRV team and the team of expert colleagues of the other workshops.
And of course many  thanks to all the female farmers for their massive turnout and interest shown!
---
The "Calf rearing event 2.0" took place on November 7, 2019 at the Denkavit head office in Voorthuizen.
Four different speakers (each from their own expertise) presented interesting lectures on calf rearing.
My lecture: "Prevent stress in calves, let them grow to the maximum".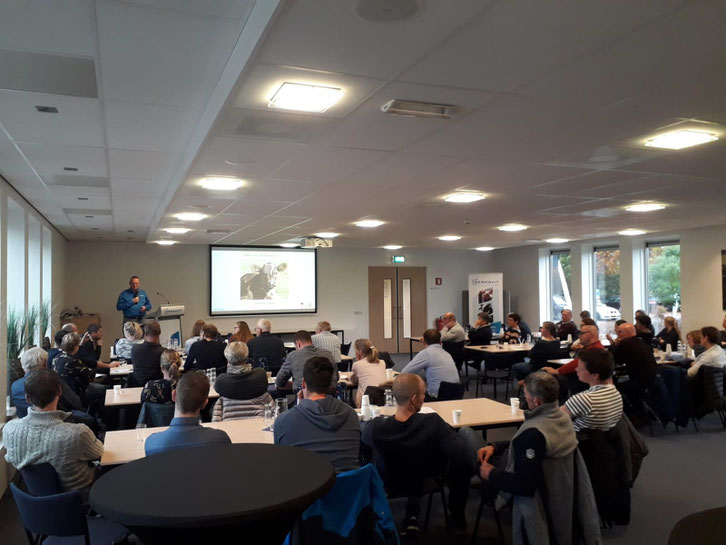 ---
In October 2019, the Austrian authorities Bio Ernte Steiermark and LFI Kärnten organized a seminar on Low Stress Stockmanship at three locations.
In Judenburg & Semriach (Steiermark) and in Klagenfurt (Kärnten), I gave an interactive PowerPoint presentation.
Followed by a practical demonstration at three cattle farms, where the participants were able to put what they learned into practice under my guidance.
---
You wouldn't expect it, but the Euro Buffalo company is located south of the Romanian town of Salonta.
With 900 American bison on 3000 acres of pasturage, it is the largest American bison farm in Europe.
A short impression of my visit to this company:
In 1993 the company started with just 3 bison. Through targeted breeding programs, it grew into a renowned supplier of bison meat and breeding material. Both the meat and the live bison are now making their way all over the world.
Adult bulls reach a height of up to two meters. Their body weight is then around 1100 Kg.
Adult cows weigh around 500 kg.
Anyone who thinks these are slow creatures is mistaken.
They reach a top speed of 65 Km. per hour and jump higher than a sport horse!
Then it is safer, more efficient and more convenient if you can handle these animals according to the Low Stress Stockmanship method.
Bison that are not kept or sold for breeding are slaughtered and processed on site in a slaughterhouse.
All links in one hand: breeding, animal feed and meat marketing.
A unique concept and a unique experience to work with these bison.
---