1. The classic way:
"I DO SOMETHING WITH CATTLE AND HERD ANIMALS"  
2. The LSSE method: 
"I KEEP CONTROL OF MY CATTLE AND HERD ANIMALS. THEY DO WHAT I WANT THEM TO DO AND I REMAIN IN CHARGE".
Low Stress Stockmanship is an animal-friendly, efficient and safe way of working.
The principle is not to force animals, but to motivate them through training.
This is done according to the principle of positive reward (by taking away the environmental pressure), and not by hitting or violence.
Patience has nothing to do with time, but with expertise and with knowledge of the behaviour and reaction of herd animals.
Mistreatment of cattle immediately makes them (and you) nervous.
Controlling cattle and other herd animals is based on four basic rules:
1. Position
2. Angle (which angle has the most influence)
3. Speed
4. Timing
Working with herd animals is communicating on this principle. Not by shouting, or luring them with concentrates!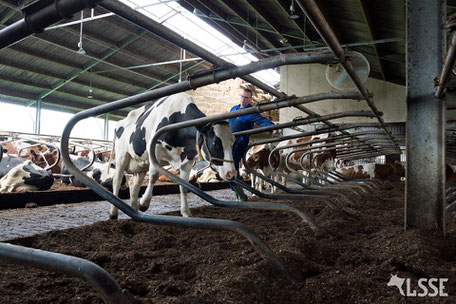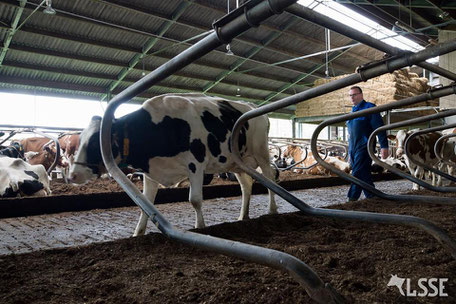 If the animal obeys you, you are in control. 
As soon as a cow decides to stop, she hesitates, looks for an escape route and you have lost all control! There is no trust and respect between you and the cow(s).
CONFIDENCE of a cow can be recognised by the proximity of the animal to the human being.
RESPECT of a cow can be recognised by the distance of the animal towards the human.
ANGRY AND PANIC of a cow leads to aggression, ( both in humans and animals).
I cannot emphasise enough that disrespectful animals are dangerous animals. These are animals that cause accidents. 
Some examples of disrespectful animals:
- animals that knock the feed bucket out of your hand, or push you on the ground for concentrates, 
- animals that push you aside or run you over, 
- animals that bite or suck at your clothes.
Your Cowmunicator,
Ronald Rongen
---