May 12, 2023
An inspection visit in Mijas, Spain, to improve the welfare of "Mijas Burro Taxi" donkeys
Donkeys from the "Mijas Burro Taxi" have it slightly better than in the past, an improvement in husbandry conditions and animal welfare is still more than urgent.
Veterinary care around claw problems and animal condition has improved in recent years, in terms of husbandry and handling of the donkeys is still a long way to go.
All the donkeys in the "Mijas Burro Taxi" are stallions
This already creates a problem.
The donkey stallions are constantly on a short rope (of about 30 centimeters), they are also muzzled to prevent them from attacking and biting each other.
The drinking troughs present are inaccessible to the donkeys due to the short tethering and muzzling.
Neutering the stallions could prevent a lot of suffering and is an absolute must as far as I am concerned.
It would allow the animals to live in more space and with more freedom of movement, which would improve animal welfare.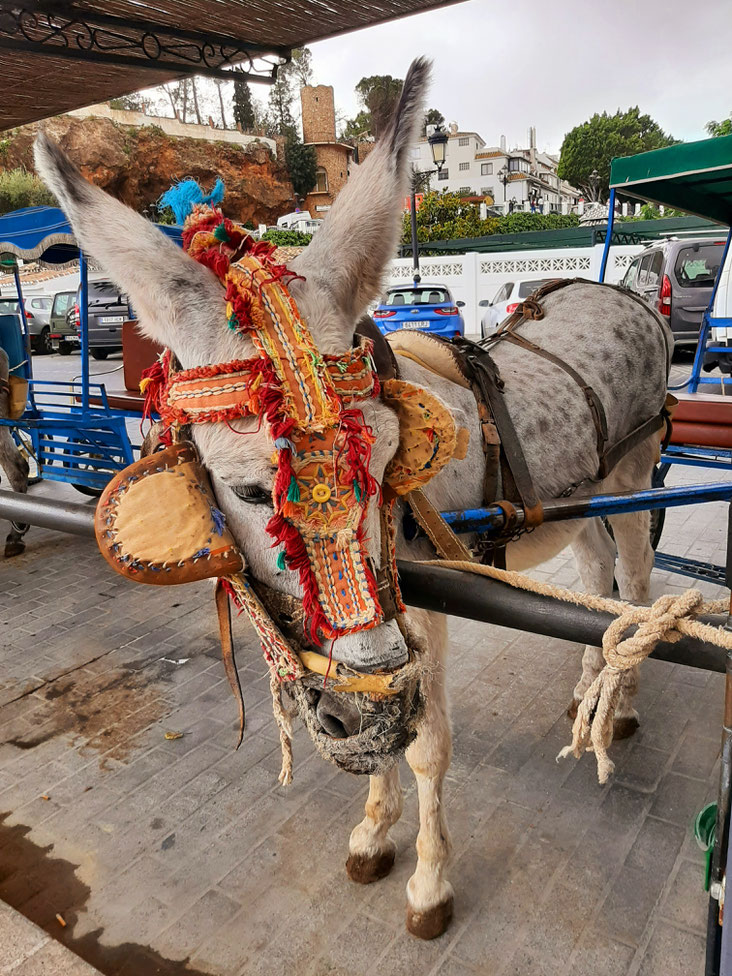 The rest area under the taxicab stop
Here there are some partitions that allow the stallions to stand on a slightly looser rope and keep them from touching each other.
However, it is an environment that needs to be modified in terms of animal welfare design and materials before it is suitable as a resting place for donkeys.
The donkeys' night quarters
These do not meet current animal welfare standards.
Ideally, rest and housing facilities should include a shelter with an attached outdoor area.
This gives the donkeys more freedom of movement and their natural live requirements are better met.
Once more, my urgent advice is to castrate the donkey stallions
Otherwise, group housing in a shared open facility is practically not possible.
As long as they are not neutered, most donkeys in Mijas are mostly forced to stay indoors and housed separately after their working day!
There is also positive news
The donkeys now have a covered shelter near the taxi-stand.  
Feeding and drinking
The animals are provided with a small amount of both food and water before and after their work.
That small amount at a time is not unusual for donkeys.
Donkeys do not ruminate and thus spend less time eating. Also, donkeys are more susceptible to colic.
Nevertheless, I advised the co-workers and donkey owners to provide the animals with a small amount of both food and water during the day, (during periods of rest).
Source text and photos Ronald Rongen
---