The THI (Temperature Humidity Index) will rise rapidly if ventilation is not optimal.
The intended goal, "cooling and better cow welfare" will not be realized if the ventilation is not right!
Therefore, make sure that the ventilation capacity in the barn is adequate so that water vapor cannot precipitate.
Once the air is saturated with water vapor, droplets form. These water droplets have almost no cooling effect. The precipitation of the fine droplets creates a "blanket of water" on the cows.  This prevents them from dissipating their body heat.
YOU SEE THE SAME EFFECT ON A BEAUTIFUL AND (TOO) WARM AUTUMN DAY, WITH UNSHAVEN CATTLE IN A COWSHED.
If you brush these animals on their backs in autumn, your hands are soaking wet, while the animals are very hot on the skin.
They can't get rid of the heat.
In autumn THE ingredient for lung problems ...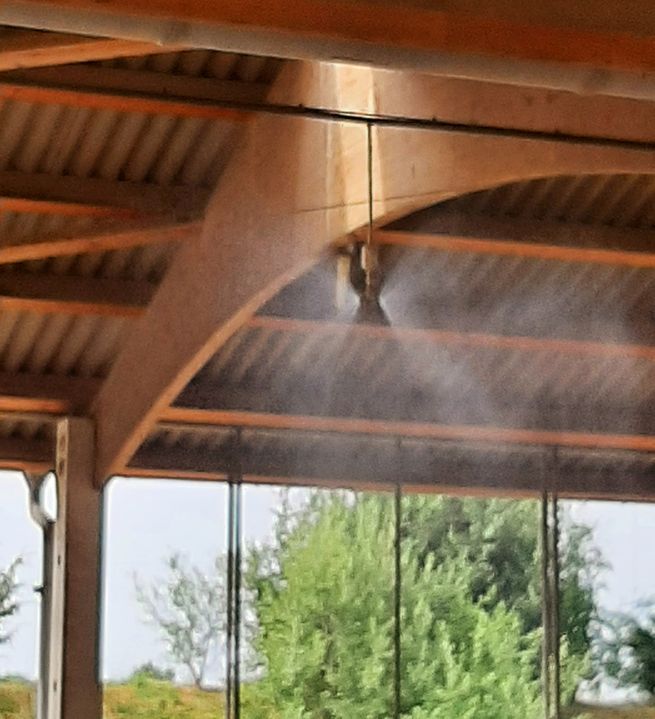 SPRAYING COWS:
My advice:
Work with a total cycle time of 12 minutes (sprinklers on for 3 minutes, then sprinklers off for 9 minutes). 
Higher flow rates provide better cooling at the animal level during spraying.
Coarser droplets penetrate the animal's hair better, thereby also cooling the skin.
If you spray 1.4 liters of water per minute per cow (for 3 minutes), the water begins to drip down the side of the animal.
This creates convection.
Water dripping off the cows cools by extracting heat from the body in addition to evaporation.
Larger amounts of water per minute and per animal do not increase the cooling effect.
As heat stress in livestock production becomes more topical, I believe more research is needed.
This is to assess whether the most efficient amount of water needed to cool cows in central European conditions is not different from that in southern European conditions, (hot, dry climate in the south versus hot, humid climate in central Europe).
Finally, there are also major differences in housing, feeding, milk production, etc.
In conclusion, we can say that when there is heat stress in the barn, it is always better to cool than to do nothing at all.
Misting or spraying, both systems have their advantages and disadvantages.
I am convinced that water cooling at the animal level will be an integral part of (dairy) cattle farming in the near future.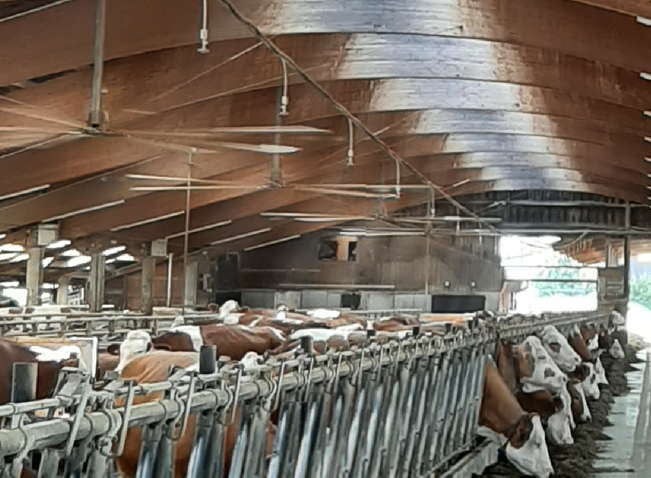 Source text and  photos: Ronald Rongen
---