Handling and treatment during calf rearing are partly the basis for successful milk yield or growth.
The final behavior of cattle is definitively determined during the rearing period.
So teach the calves from day one that you are the leader, and that they must obey you.
Let them move in a controlled and calm manner, you will see immediate results.
It doesn't even take extra time, and you will have more manageable animals that are easier to handle.
You work safer, more efficiently, it increases job satisfaction and it even saves time!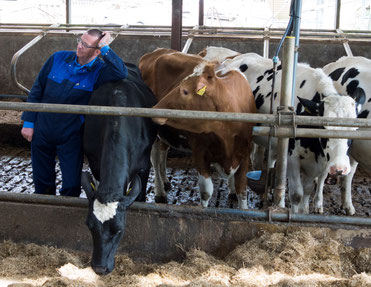 The above picture shows heifers seeing me for the first time.
The "black and white" heifer has absolutely no respect for foreign people.
I stand (to her right) at the same level as her shoulder blade. 
My elbow and arm on her, and she does not respond!
She already shows no respect for people at all. 
If she is not corrected, she will later carry on her own will, with all the consequences.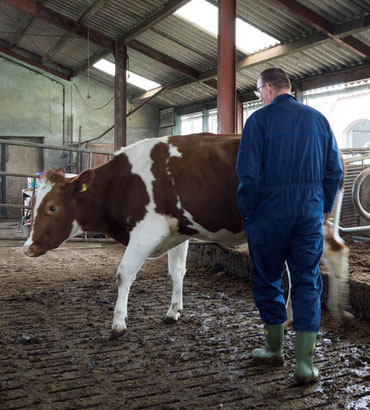 The photo above shows a "red and white" heifer, on the same dairy farm.
She immediately responds positively to my body language.
With my hands in my pockets and without a stick, (or having to say a word), this animal responds positively to my body language.
She calmly and perfectly does what I require of her.
---